ALBEK x TROY LEE DESIGNS/RED BULL/GASGAS FACTORY RACING ROUND 6 SOUTHWICK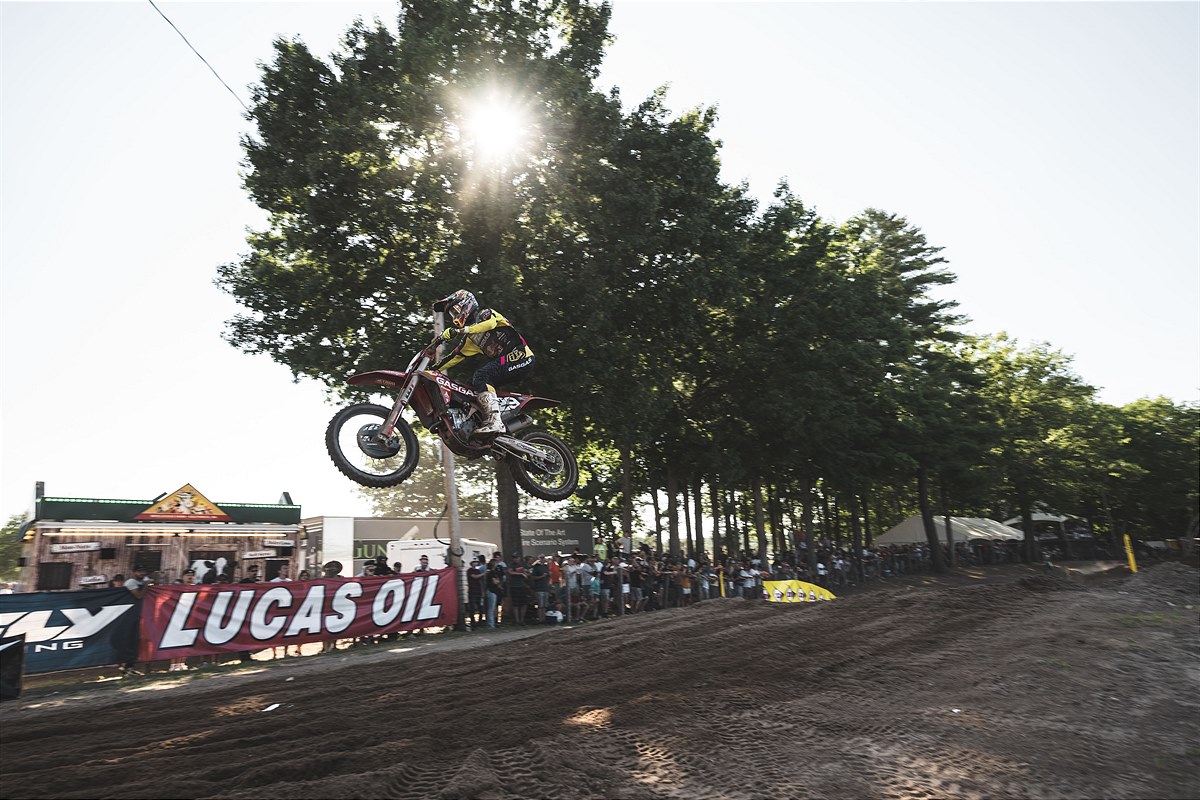 It's onwards and upwards for the Troy Lee Designs/Red Bull/GASGAS Factory Racing Team after a gnarly day of racing at The Wick 338 in Southwick, Massachusetts. A track known for its seriously sandy and rough terrain, the Southwick National delivered on its promise once again! Justin Barcia and Michael Mosiman rallied through the day to bring home a pair of top-10 overalls in their respective classes, and finishing 15th on the day, Pierce Brown joins the trio in leaving the sixth round healthy and ready to take on the second half of the 2022 AMA Pro Motocross Championship! 
From 24th to fifth, Mosiman delivers a serious comeback performance in Moto 1!
Barcia fights through an unlucky break early on
Shout out to local rider Chris Canning, who raced his MC 450F to a career-best 11th overall in the 450MX class!
Coming off his first podium finish of the season, Barcia was ready to do some work in the northeast, a place he considers close to home as a New York native. In the first moto, he started off back in 11th and worked his way up to eighth before going down. As he was getting up, he got clipped by another rider, causing an even bigger delay as he got situated and returned to racing mid-pack. Dusting himself off, Barcia rallied back to a 13th-place finish in Moto 1. A little banged up for the second moto, Barcia powered through with a top-10 start on the first lap. Although he never stopped fighting, Barcia wasn't able to pick off many positions due to the gnarly track conditions and it was all he could do to salvage ninth.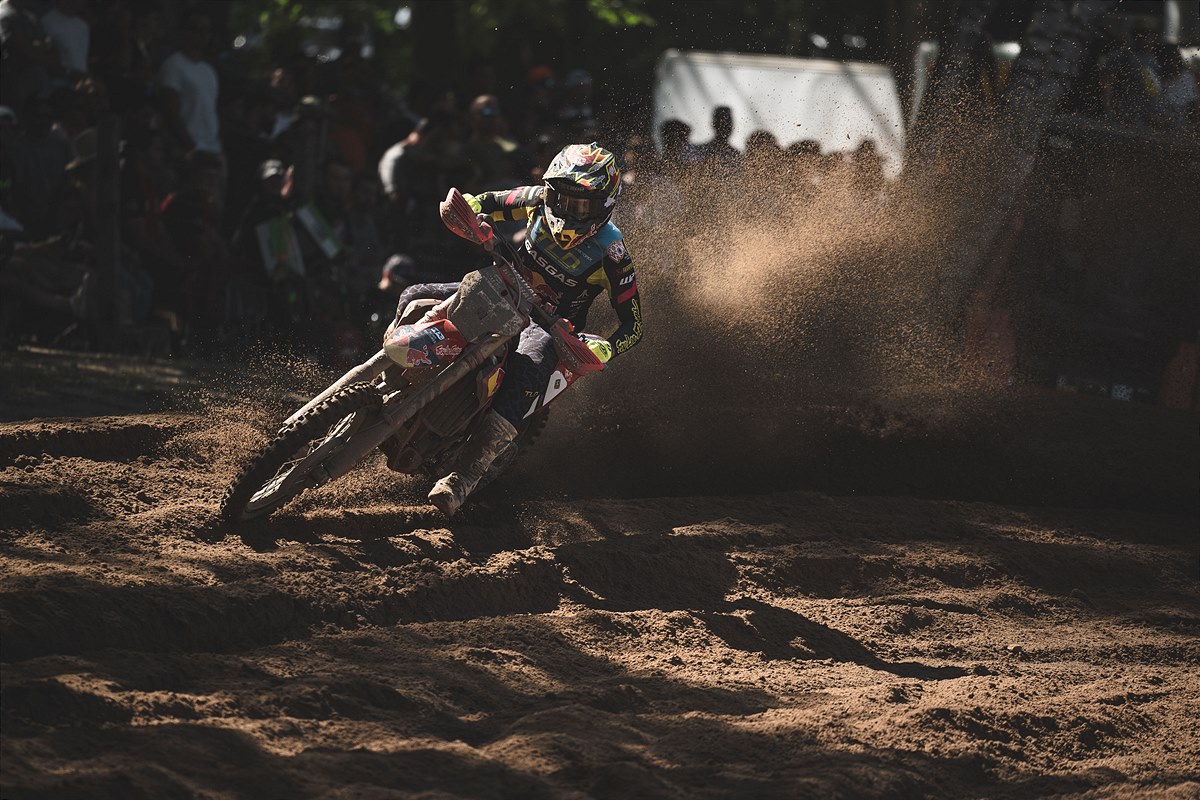 Justin Barcia: "I love this place! The fans are great here and it was fun, to say the least. I definitely struggled today, though, and I'm very not happy with my results, obviously. I was going from a podium last week to not-so-good results, so this weekend is tough mentally, but I need to regroup. I was riding well in the first moto and then I had a crash and got landed on, so I got pretty tore up there. I was pretty sore for the second moto but I pushed as hard as I could, I just didn't come home with the result I was looking for. We're going to go back, regroup and come out to Millville swinging."
We also want to give a shout out to Connecticut native Chris Canning, who raced his MC 450F to an impressive 11th overall with consistent 12-12 finishes in the 450MX class! Topping a previous career-best finish of 12th overall from the 2018 Southwick National, Canning proved that nothing beats a home-court advantage when it comes to the unique sands of Southwick!
In the 250MX class, our GASGAS Factory riders had their work cut out for them when it came to starts at The Wick. In the first moto, Michael Mosiman found himself in the back-half of the field off the start. Never one to back down from a challenge, Mosiman put his head down and charged his MC 250F all the way from 24th on the first lap, to an impressive fifth-place finish with a serious comeback performance in the first moto. On-track for a solid overall result, he found himself back at square one at the start of Moto 2 as he rounded the first lap back in 21st. Once again rallying through the field, Mosiman was able to get as far up as ninth but a few minor issues kept him from breaking into the top-five overall. His 5-9 moto scores were enough to secure eighth overall on the day.
Michael Mosiman: "It was a tough day, indeed. I felt like I rode really well and my fitness was quite strong, but a poor start was kind of the story and I just made the best of it, especially in the first moto. I was having a couple of silly issues, just with goggles and we've been messing around with the bike a little bit, so there's certainly things to work on. Frustrating finishes but there are positives and we're going to focus on those and build on those. I'm going to clean up my starts and try to make sure that I'm where I need to be from the get-go."
Teammate Pierce Brown also felt the adversity that comes along with bad starts as he kicked off the first moto back in 16th. The Utah native battled with the sandy terrain, which made it hard to pass with the added elements, and he worked his way back up to 13th at the end of 16 long laps. In the second moto, Brown had a better start in 12th and after powering through a second round of battle, he was only able to work up to 13th.
Pierce Brown: "It was a struggle of a day. I battled with bad starts and it was hard to make passes out there with the sandy terrain, I'm not really used to that. All-in-all, I had fun out there and I put some pretty good laps together in the first moto. The second moto, I just struggled all around. I'm hoping to put that one in the past and gain some momentum here soon."
The 2022 AMA Pro Motocross Championship is back in full swing with Round 7 taking place next Saturday, July 16 in Millville, Minnesota.